This is Chet Small. My daughter and I sat down at the computer and I was amazed to find so much information on the 45th.
I was a radio operator and communication Sargent for K company...the same as you. We read your lengthy and thorough account of your experiences from
the ship SS US General MANN to the experience at Repetsweiller...where I also got hit...It brought back many memories..
I remeber you, Al...and you will probably remember me...they called me "Smalley"
I never heard what happened to any of our company...I was sent to a hospital in Frankfort...I reentered the 45th ...and ended up in the Dachau liberation.
We went through alot together, Didn't we?
Wouldn't it be great to see each other or talk at least...
I turned 92 years young last April...I guess we have both made it this far....!
Please get in touch if this finds you.
---
Hi Smalley:
Indeed a pleasure hearing from you. What a surprise. For the longest time, I tried to get in touch with you, without success. After 64 years, we are in contact with each other.
At Reipertswiller, 5 rifle companies and 1 Heavy Weapons company were captured, including Company "K". Thought you would like to know the 157th Regiment is still holding their annual reunion. I just returned from one which was held at Gettysburg, PA on 9/4 to 9/8/2009. Everyone had a great time.
God bless you on attaining the age of 92. I will reach 87 comes December. Tina, my wife, and I are getting ready for church. I will phone or email you again soon. Take care and do not wait so long (64 years) to keep in touch.
Best wishes and have a great day.
Al Panebianco

Dear Marion:
Another exciting and happy surprise from a combat buddy that I have not heard from for 64 years. I am overjoyed both of us are still around and able to communicate. My website has brought me many moments of joy and happiness. Can you believe, after 64 years, Smalley found me. I hope we will be able to get together again. Thought you would be interested in my interesting story.
Best wishes,
Al Panebianco

Mr Panebianco;
Can you please post my search request.
I am trying to track down my father's activities in WWII. His records were among those destroyed in the 1973 fire in National Personnel Records. My father also never spoke much of his time in the service. I do remember him saying that he did some training in the southwest because he mentioned going to see Carlsbad Caverns. He was from Hoosick Falls, NY.
From his discharge papers, he entered the MTO on 11 May 1943 and the ETO on 19 Sep 1944. According to the discharge papers he participated in Sicily and Southern France but no mention of Italy though I do remember him talking about being in Italy, kids who were starving really got to him. He also was in the Ardennes, Central Europe and the Rhindland which I assume was with the 80th Division.
He was part of a heavy mortar crew originally. Sometime in late 1944 he was wounded by shrapnel in the leg and eventually ended up at a replacement depot and assigned to the 318 Reg, 80th div on 1 Jan 1945. His SN was 32213745.
Does anyone have any memories or records of him?
Jack Riley



Dear Mr. Panebianco,
Thank you for preserving the memories and sacrifices of those who gave so willingly for the cause of freedom.
I just returned from a trip to Nettuno to visit the Chapel of the Missing at the Rome-Sicily American Cemetery. My great uncle, Joseph Tellish, 157th Infantry, 45th Regiment, was MIA and later given a Finding of Death on May 24, 1945. His remains were never found. His name is inscribed on the wall there and I had the honor of being the first (and likely only) member of his family to go and honor his sacrifice.
He was awarded the Purple Heart and the Bronze Star – but I have no information on the incident that earned these medals other than his death.
I have some wonderful pictures of him, the Anzio Museum, and the Cemetery that I would like to share. Also, I'd like to know if anyone involved in the website knew him. It's interesting that he and my dad enlisted on the same day. My dad became ill during basic training and he was hospitalized – so they were separated. Uncle Joe ended up at Anzio and my dad was in D-Day+1. I also visited Normandy after the Anzio visit last month.
Please let me know if you would accept a photo or two – He has no family left– other than a few nephews and nieces. I don't want him to be forgotten.
Any info is appreciated, including the next reunion details.
Take care,
Lorraine Ross
---
Dear Lorraine:
Many thanks for writing. I will be more than happy to add your email and pictures to my website. Perhaps someone may see it and write to you.
I suggest you write to Michael Gonzales, curator of the 45th Infantry Division Museum, 2145 N.E. 36th Street, Oklahoma City, OK 73111. Also you can contact the National Archives and Records Administration, 8601 Adelphi Road, College Park, MD 20740-6001 in writing or by phone 1-866-272-6272.
Best wishes for a successful search.
Albert R. Panebianco
---
Thank you –
I've attached the basic info, etc about him for the website.
I will also follow through with contacting the 45th Infantry division museum and NARA.
I also wanted to let you know that we had the honor, unexpectedly, of having Alfredo Rinaldi gives us a day long tour in Anzio. He wrote a book called, A Boy Named Anzio, an amazing story. It's only in Italian now but is in the process of being translated.
He started the Anzio Museum and has served as a tour guide for both President Bush's and other dignitaries, and tour groups. An amazing story.
Anyway, thanks again for the website – I am grateful for your effort – these men – and women – suffered the worst – they should never be forgotten.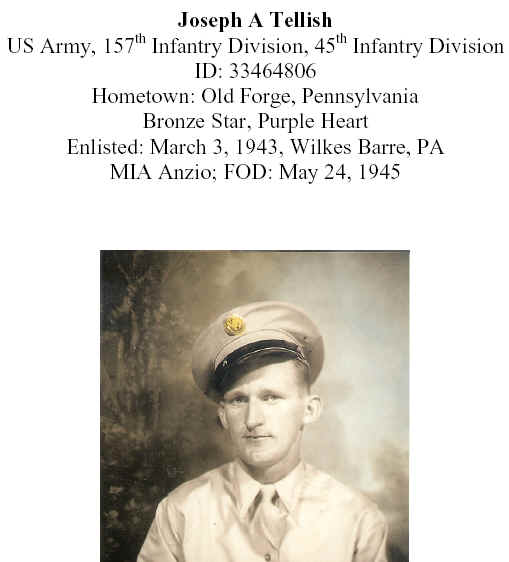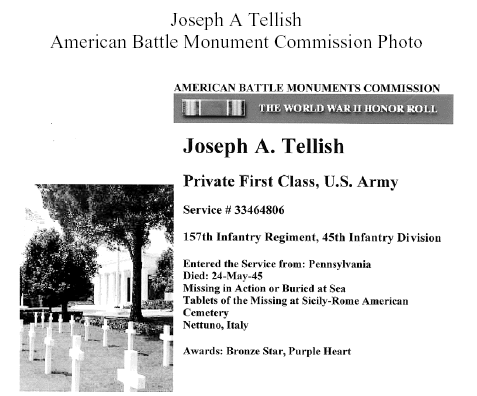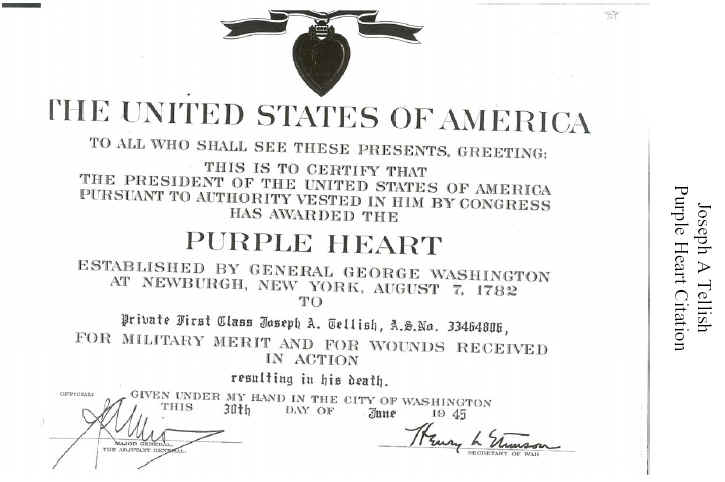 Mr. Panebianco,

I have been looking for information on my Uncle PFC Eldred Eugene Williams. He was from Powell , Alabama . He was drafted his senior year before he graduated high school. He trained at Camp Fanning Texas as far as I know. And entered active duty July 14, 1943. I believe he served in Italy , France & Germany according to my Family. His grave only says 157th U.S. Army. Nothing else on his unit.
He was listed M.I.A. on Dec. 29th, 1944 by the Army. Until declared dead on Jan. 18, 1945. I have gotting his IDPF. It says that according to German civilians he was killed in battle around the 19th of December. This was the city of Bundenthal , Germany . The civilians buried him in the civilian cemetery there.There were 5 other soldiers buried with him in the cemetery. They were James W. Leonard,Unk. X-219, Unk. X-220, Marvin M. Camick, James W. Milstead.
The listing on cause of death is S.F.W. Entire body. I think sfw is shell,fragment,wounds? He was moved from this cemetery on June 19,1945 by 3049th Qm GRS and reburied at Benshiem Cemetary , Germany grave # 2819. Then to St Avoid France on Oct. 12,1945 plot-000 grave# 83 row # 7. Then finally returned to be buried in our family cemetary at 2nd Creek Cemetary Tn.
Wanted to know if you or anyone might know anything about PFC Williams , Bundenthal, or any of the men buried with him there? I would like to know more of his service(unit etc.) I sent for his records they had been destroyed but they are sending us his medals which have never been recived by family. Well Thank You . I have include a photo the only one I have of him.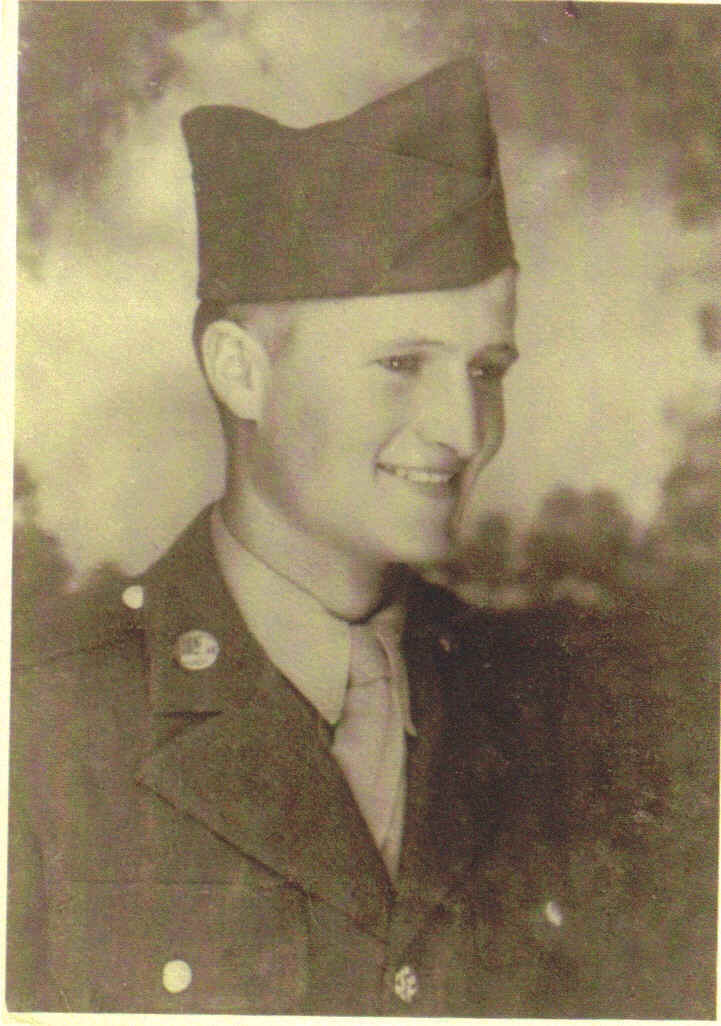 ---
Hello,

I am writing to ask if you would once again link my Purple Heart

website to your page? I know several years ago we were linked and I

still have your link on my website and was wondering if you would

please link my website?

Here is the url:

http://homepages.rootsweb.com/~sebring/index.htm

It is a database to all Purple Heart recipients. Due to ill health,

I was unable to work on the website for a while, but have battled and

won and am back to adding recipients to the website again.

Thank you for your time,


Debie Blindauer
---
Dear Mr. Panebianco:
I came upon your splendid website while searching some items. I was
particulary struck by your surname that is a fairly common name in the
Westmoreland County area of Pennsylvania, especially Greensburg. In
fact, a Panebianco serving with the 4th Armored Division (704th Tank
Destroyer Battalion) was listed as KIA. His name came to our attention
while we were preparing one of our books, Men of the 704, for
publication. Are you in anyway connected to the Pannebianco families in
Greensburg.
May I request that we add your site to the sites we will be placing on
our website. Would it be possible to include us in your list of links?
Our site appears below... you can access our publications and mission
statement from there. If you click Long Road, and They Say There Was a
War, you will find the veterans who appear in our books together with
excerpts from our stories. I may well be that some of your
correspondents might know some of these men and women, or be interested
in reviewing the contents of our books.
I copy this letter to John DePaul of Greensburg/Jeannette, Pennsylvania,
whose family came from Italy (Cercemaggiore), for his information.
I include below our website and yours (for John's perusal).
Thank you for your service and for knowing how important it is for
others to know what your generation has done for succeeding generations.
http://www.stvincent.edu/napp11 (this is the center's home page)
http://www.stvincent.edu/academics/english/richard_wissolik (this is my
home page from which you can access the center page by clicking on teh
Veterans Oral History Logo below my photo)
http://www.45thinfantrydivision.com/
Sincerely, Dick Wissolik
---
Good evening,
I sent you an email (11/26/06), once before and you emailed me back that
I printed out. Unfortunetly, I cannot locate that particular email so I
have begun another. The information was on Paul Donahue, my dad. Your
email explained heck of a lot of information for me! And I wanted to say
"Thank You", I have found lots of information on the website that you
suggested and since then I have located a letter from my Dad to his Mom
that was actually printed in 1944, the entire 2 page letter printed in
our home town newspaper! I am anxiously waiting for an archived copy
that should be coming latter January. The letter details dates and
places which will help me, greatly.
However, if you have the time I was hoping that you could help me again.
And if I am asking too many questions, please let me know! Here are my
questions:
What is the difference between a Rifleman and a Duty Soldier II during
WW II ?
What is the name of the famous Cathedral in Angio, Italy that was bombed
(Dad was there)?
Have you ever heard of the 3856 QM gasoline supply co?
or Co. L 399th Infantry of the 100 Division?
94th EVA hospital?
Cievalli, Italy? is this a place? I cannot find any info on this one.
(where he was hurt)
Semin (ole) or Semin(sile) A.P.O. #464 (where he received his Purple
Heart)
I truelly apologize for all of the questions...but I sure do thank you
for any help you can give!
Sincerely,
Peggy Donahue-Wooten
---
The recipient of my below email inquired about his father, Howard Simpson. I replied with the below email letting him know I'd put his email on our website to further enable his search for information. Please email me if you have any information.
---
Hi Kevin:
Really enjoyed chatting on the phone with you last night and receiving
your email this morning. I am going to add this email to the email
section of my website. Someone out there may recognize your Dad's name -
HOWARD SIMPSON, a member of the 45th Infantry Division during WWII.
Take care and best wishes,
Al Panebianco

---
Dear Al,

Your website is terrific. Would you be so kind to add the following attached picture and information to your website? I am the grandson of Ferris William Ash and my father really never knew his father since he was only three years old when Ferris died. My father (a Vietnam Vet) would be very proud to know his father has been listed among fellow veterans who served in the 45th Infantry Division.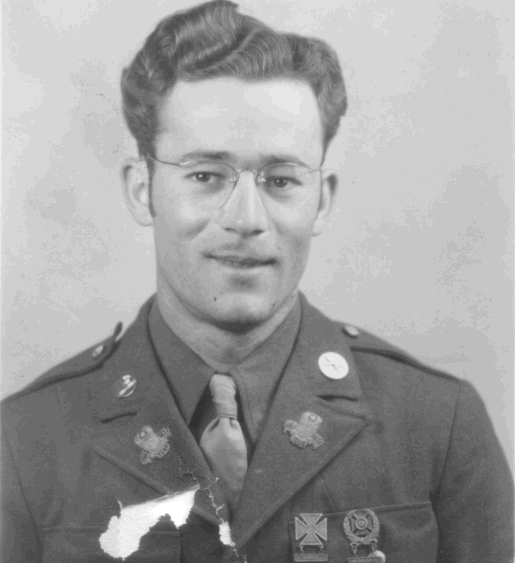 PFC Ferris William Ash
33439705
Pittsburgh, PA
45th Infantry Division
L Company
179th Infantry Regiment
Purple Heart Medal, European African Middle Eastern Campaign Medal with 4 Bronze Stars and 1 Bronze Arrowhead
Died in McKees Rocks, PA on January 28, 1949 at age 24.
If anyone can share any information please e-mail jefirish - @ - comcast.net
Thanks Al.
Jeff Ash Pittsburgh, PA
---
Dear Sir,

I would like to personally thank you for helping me to find the burial location of
my Uncle Edmond St.Onge who was killed in action in Anzio in 1944. My father was
only 7 years old when his big brother was killed. By the way, their father, Joseph
Alfred (also my Dad's name) died that same summer. Through your web-site I was able
to find Edmond's burial site in Italy. My father died of cancer six years ago and
it was his wish that my mother find his grave and place flowers there. Now we can.
I am far too young to fully appreciate the sacrifices that my uncle and men like
yourself made to preserve our freedom, but I would like to say thank you. I realize
that many of the Veterans that survived the war are no longer with us, but I wonder
if any that are would have remembered my uncle. I know nothing of him, but would
like any information I might find. God bless you for your site, I cannot thank you
enough.

Sincerely,
Chad Joseph St.Onge

---

Mr. Panebianco,

My name is Colleen and Daniel McGarry was my grandfather. He served with the 45th Infantry Division, specifically in the 179th Battalion and, after he was wounded a few times, in the 178th MP Company. He passed away about 12 years ago. He was and is my hero and I would be honored to talk with anyone who may have served with him. Like many of his generation, he didn't talk much about his experiences during WWII and anything I could learn about his life during that time would be wonderful.

Regards,

Colleen Wile
cwile@alumni.nd.edu
---
From: Bernet, Albert
Sent: Thursday, March 25, 2004 1:12 PM
Subject: after reading your web-site
Dear Sir,
Internet is a wonderful tool for communication. It is also, a very good way to tell the History ; the true History. I am French ; I write you from GRENOBLE. I was born in 1946 and I know it's thanks to guy as you if I am in this world. Because my father had been taken prisoner in Germany (in Rügen Island) until 8 May 1945. You know, nobody, in France, knows all what you had to suffer in order to achieve the end of this war. French left hand policy (communists or trotskistes and so on) is disgusting in the way they treat U.S. Army campaign in France. They h've always said, the Americans came just because they have to save their business. I never could read stories of simple U.S. soldiers in the battle. We know books related Germans troops life. But nothing about G.I. It seems, war was something of easy for you. You were victorious, you had powerful weapons and plenty of vehicules; French people never knew how hard were your battles; how miserable was your life in the battlefield. I think you must spread your G.I. stories all through the world. European people, and especially French, must know what they owe you. Too many people criticize Americans. Maybe not everyone can agree with U.S. policy in the world; But you and all the guys who fought and died for us, at least you merit regards. Thanks for all. Take care for a long time
Albert BERNET

---
For those who have been trying to locate records and information of their loved ones that served in World War II, don't despair, read the following e-mail.
Dear Mr. Panebianco,
I was in touch with you in October about my dad who served in the 45th in World War II, if you remember. Anyway, an ad was placed for me in the 45th's newsletter and I got a call from a Joe Beckers in Florida who was very close to my Dad's unit and has supplied me with a great deal of information about my Dad. He was everywhere my Dad was from January, 1942 right through the Anzio landing.
I have been trying to find someone like him for 27 years. I thought you might like this success story. People said I would never find anyone and I did. Let everyone know, never give up hope, I didn't. He even sent me a copy of a training certificiate from Camp Croft which nearly matches the one I have from my Dad.
I now have many details of my Dad's training and things he went through during the war. I plan to visit this man this year. He seems very happy that I cared enough never to forget my Dad and said he feels like he found an old friend in me.
Keep in touch,
Gary Tucker
---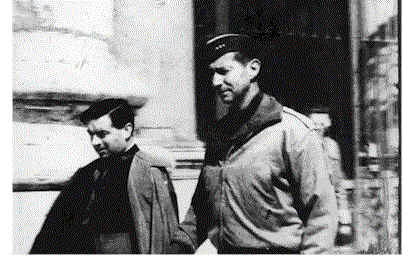 Msgr. Walter Carroll Gen. Mark Clark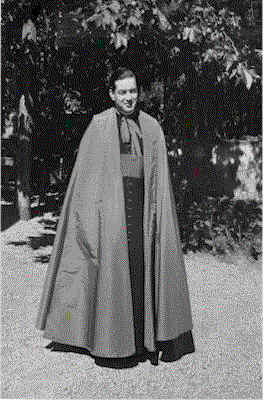 Dear Al,
I am looking for veterans of the war in North Africa, Sicily and Italy, and of immediate post-war Germany, who may remember an American priest named Msgr. Walter Carroll. I am sending two pictures of him, one of which shows him escorting Gen. Mark Clark into the Vatican shortly after the liberation of Rome.
Msgr. Carroll, a native of Pittsburgh, was a diplomat assigned to the Vatican Secretariat of State. Among other things, he served as Vatican liaison to the Allied forces. In the summer of 1943 he arrived in Algiers to aid POWs then in Allied hands. However, he was also involved in various negotiations with Eisenhower and was probably directly involved in arranging the surrender of Italy in September 1943. He became very close to Gen. Bedell Smith and to Gen. Mark Clark. Msgr. Carroll went into Sicily with the Allied invasion and then on to Naples during the battles for Cassino and Anzio. Although he was only 35 years old, he suffered a heart attack in April 1944 and spent some time in the Army's 300th General Hospital in Naples. When the Allies broke through at Cassino, he followed very close behind the front lines in his jeep from Naples to Rome.
After the liberation of Rome, Msgr. Carroll organized relief work in Italy. He helped countless G.I.s with personal problems, arranged audiences for them with the pope and often socialized with troops at the USO and the American Club. Within hours of the liberation of the Dachau concentration camp, Msgr. Carroll departed from Milan leading a convoy of trucks filled with food, medical supplies and medical personnel -- most likely supplied by General Frederick of the 45th -- for the camp's former inmates. Msgr. Carroll made at least three trips into occupied Austria and Germany to set up relief work. Eisenhower wanted the Vatican to appoint him as the official papal representative to occupied Germany, but that was not possible.
Msgr. Carroll died in 1950 at the age of 41. He had only two brothers. They also became priests (both became bishops). After the last of them died in 1977, there were no survivors to carry on his story. He has been forgotten. I am a reporter for the Pittsburgh Post-Gazette, and I am trying to reconstruct Msgr. Carroll's life for our readers. If you remember him, please contact me.
My e-mail is arodgersmelnick@post-gazette.com.
My mailing address is: Ann Rodgers-Melnick, the Pittsburgh Post-Gazette,
34 Blvd. of the Allies, Pittsburgh, PA 15222.
My phone number is 412-263-1416.
I look forward to hearing from you.

Sincerely,
Ann Rodgers-Melnick
---
Hi Al,
I have some great news. I had contacted you back the first of June after finding your webpage while I was searching for info. on the 179th. You were kind enough to respond and referred me to Mr.Wilson, with the 45th Association. He in turn, responded with some information and some contacts for Company A of the 179th. I have since joined the Company A, 179th Alumni Assoc. and have been given a list of members with the most promising contacts highlited. I have talked to 7 or 8 of the men on the list and in turn, each has referred me to others that may have better information than they were able to furnish. Last night, I hit the "mother lode", I found my Father's best friend. He told me about the "3 musketeers", as they were referred to. He is the only one left now, as the other man passed away just last year. Oh, how I hate that I waited so long to finally get serious about starting this search. He told me about the battle at Meximeaux and how he was near my Dad when he was hit. He even sent me an e-mail with a picture of the "3 musketeers" attached. I'm going to try and attach that picture just to let you see who my Dad was. The men are Kenny Knight, Dick Gyorkos, and Tony Guzawich. They were 2nd squad, 1st Platoon. I had another man mail me a picture of my Dad's squad when they were at Salerno.
I haven't heard from the Army Personnel Center yet, so I don't know if I'll have to travel there or not. I am going to meet Mr. Gyorkos later this year.
Since you have a webpage, you may receive some questions like mine, so I'm giving you the name of the President of Company A, the 179th Assoc. just in case.
Richard R. Gyorkos (President)
PO Box 3126
Naples, FL 34106-3126
941-455-2905
dickjoan@cyberisle.com
I am so excited about the information I've received, I could ramble on forever, but I'll stop here. Thanks again for your help in my search.
Jeff Knight
Memphis, Tennessee
The Three Musketeers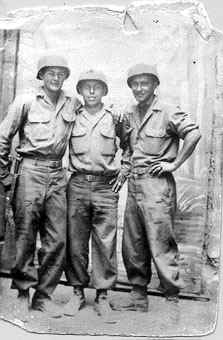 (L-R) Kenny Knight, Dick Gyorkos, Tony Guzawich
---
Hi Al!
I love your site! My grandfather was a member of the157th Infantry, 45th Infantry Division. He went overseas in December of 1944, and was killed in Nurenburg on April 19, 1945. He was 19 years old----my mother was less than a year old at the time.
His name was James Dees. He was from Arkansas. I know the odds that you knew him (or that you remember him) are not good-- just thought I'd try.
I can scan his picture and send it to you if you like.
Thanks for putting all of this info on the web! It's a lot different than just reading it from an encyclopedia!
Let me know if you know anything, or if you would like to see his picture.
---
Al-
I finally got a picture of my grandfather and I'm sending it as an attachment. You may use it on your web page if you want. I don't know alot about him. My grandmother is going to try to locate something that tells which company he was in, but at this point we only know that he was in 157th Infantry, 45th Infantry Division.
His name was James Alton Dees. He was from Arkansas. He went overseas in December of 1944 and was killed in or near Nurenburg on April 19, 1945. My mother was only nine months old when this happened. He was first buried in Germany, then France. Finally, in 1948 his body was returned to the United States, and he is now buried in the National Cemetery in Fayetteville,
Arkansas.
The picture is attached. I hope some one sees it and recognizes him.
Thanks!
Angela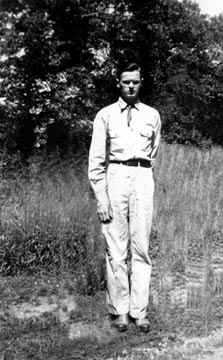 James Alton Dees
---
Dear Al;
Hope that isn't too informal...I got the idea from the other emails you had posted.
Please add mine if you wish.
I am the Granddaughter of Brigadier General Raymond S. McLain. I have been searching for a website that offers a message board for veterans and their families, of the 45th. Haven't found one yet, and am so happy to see your grandson put this site up! My 13 year old has one also. Aren't kids these days amazing?
My Grandfather didn't only fight with the 45th, but he originated as a Citizen Soldier there, in Oklahoma, and had my mom on the Mexican Boarder, in 1916, fighting with Leut. Bullard, commanding the 2nd army. During the war he says he fought in 5 Armys and 9 corps. He left the 45th just after Salerno, to command the 90th. That only lasted 2 1/2 months though. I am working on researching his memoirs, and haven't gotten beyond that. I don't know if he got back to the 45th before the war ended. I know that he insisted that Middleton be placed in the position he was supposed to have been advanced to, when Key left. When Middleton left the 45th he had high hopes that it would become his. But that was not to happen. I know there was some concern about his being a Citizen Soldier and not Regular Army, that hit him several times over the years he was actively considered for advancement, in the Military, which was from 1912 to 1954. I'd love to know the whole story. He died in 1954, and I never knew him personally.
Would love to hear Anything anyone remembers about him, or of any stories that have been handed down.
Thank You,
Christen Rosamilia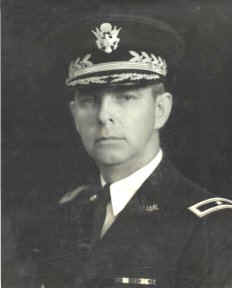 Brig. Gen. Raymond Stallings McLain
---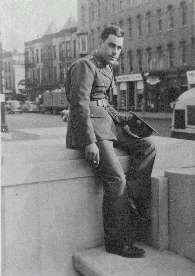 Cpl. Horatio (Raymond) Migliore.....Sometimes called "Ray" or "Miggs"
13 085 556 180th Regiment, 45th Infantry Division (Thunderbirds)
KIA - October 12, 1943
Dear Mr. Panebianco,
My name is John Migliore. I have been trying for many years, (over 50) to get some information on my father, Cpl. Horatio (Raymond) Migliore, # 13 085 556. He was called "Ray", or nickname "Miggs". He was killed in action at Salerno, Italy, October, 1943. He was a member of the 45th Infantry (Thunderbirds). I do not know what regiment he was with.
To my knowledge he was buried over there. I was nine years old at the time and have virtually no information pertaining to his demise. I have written several requests to different government agencies attempting to get some facts regarding his death, burial, records, etc. I have also requested that his medals be sent to me, his only son. It has been over a year and no responses as yet.
I would greatly appreciate any help, or information you or your contacts could give me. I was referred to the 45th Infantry website by James Drury, Modern Military References, who in turn was referred to me by, Cynthia Williams, NNU Public Reference Inquiries.
I have read the e-mails sent to you by previous queries and find them very hopeful. Perhaps there is someone out there who knew my dad.
Sincerely,
John Migliore - jolomigliore1@aol.com
1071 Donegan Rd. # 554 - Largo, FL 33771 - 727-518-2573

Dear Al,
Thanks to you and your great web site I have received more information regarding my father. I now know that he is buried in the Sicily-Rome American Cemetery, at Nettuno, Italy. I even know the plot, row and grave number, thanks to Col. Anthony N. Corea, of the American Battle Monuments Commission. I have been able to order flowers to put on his grave, and know that he is on the World War II Honor Roll.
I have received his 9 medals, including the Purple Heart, and Bronze Star, which I have proudly displayed in a case as a memorial to him.
Through the kind efforts of the 45th Division News, of which I became a member, they printed my letter requesting information from anyone who may have known him, I have been contacted by one who said he was an acquaintance of his. I am still hoping to find some information pertaining to his last days in the military.
I would like to update the new information I have found in the hopes that since there is more of it someone may respond. I would appreciate it if you could put the update in your e-mail site. I will list below all the new facts I have found.
Cpl. Horatio Migliore (nickname "Ray" or "Miggs")
ASN 13085556
Headquarters Co., 2nd Battalion, 180th Regiment
45th Infantry Division - Thunderbirds
VI Corps, 5th Army
KIA - Salerno, Italy - October 12, 1943
Again, my gratitude to you and your help in obtaining these facts.
John Migliore
1071 Donegan Rd. # 554
Largo, FL 33771
727-518-2573
---
Dear Al,

As always great hearing from you. We think of you often with gratitude for the assistance you gave us in locating men who knew or served with dad. (Cpl. Horatio Migliore, sometimes called "Ray" or "Miggs.")

We have been contacted by several, Walter Jordan, John Bentsen, and Capt. Al Luger, dad's platoon leader, who was with him when he was KIA. Al was very informative. They ate together and slept together in the same shell hole. Dad was killed when hit by mortar fire while taking Hill 188. He said he died instantly. He remarked that dad was a great guy one you could always depend on. He continued to say that the company commander, Major Reed, pirated dad away from him to Headquarters Co. to use as an interpreter. Dad spoke fluent Italian. He said he hated to lose him, but the major outranked him. Capt. Luger was kind enough to send us a copy of , "The Story of the 180th Infantry Regiment," in honor of dad. We found it to be very interesting and informative.

Please feel free to post this on your web site as our e-mail address has changed since our last correspondence: JoLoMigliore1@aol.com

Our best to you and the family,

John & Lois Migliore
---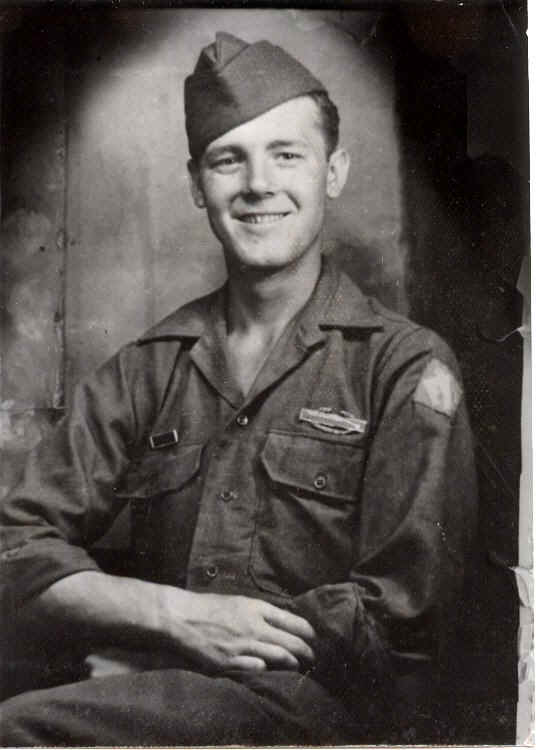 Mr. Panebianco,
My father Douglas O'Connor was also in the 157th infantry during W.W.II. I would love to hear from anybody that remembers him or anything about him. He told us little about his days in the army only to say why did he survive when so many about him didn't. I couldn't believe it when I read your story and you had those same words in your story. My father is gone now and I'm trying to find out anything I can. Please accept the attached photo of my father. He was from Saginaw, Michigan and was inducted in Feb. 10, 1943 and discharged on Nov. 4, 1945. He fought in Sicily, Naples, and Rome. I don't know a whole lot more than that. I look forward to reading more about some of the history of my father and what he went through during W.W.II. Thank you and your grandson for having this web site up and all the stories and information, and a personal thank you for what you must of went through during those times.
Thank

Richard O'Connor
OConnor@centurytel.net
---
Dear Al,
I just spent some time looking over your website and reading yours and others stories. I am deeply moved by the sacrifices you and the other WWII veterans made to bring peace to the world. I do hope we have learned something from the past, but I wonder. My Father was KIA on March 29th,1945. He was a member of the 157th Regiment, 45th Division. I would love to hear from anyone who may have known him and served with him. His name was George T. Kirmanides. His serial no. was 35174599, and he was of Greek nationality. If you could add my request for information to your website, I would be very grateful! Thank you so much for providing me and so many others with a connection to our past history and to the bravery of yourself and others who fought in WWII.
Steve G. Kirman
---
S/SGT. PAUL "BUD" WEITHONER - COMPANY "L", 180TH REGIMENT, 45TH DIVISION
I can't tell you how excited I am to find this wonderful web site. It has been an answere to prayer. My fathers' name is Paul Weithoner nickname Bud. He was a Staff Sergeant in CO L 180 Infantry 45th Division 3rd Platoon. His serial number was 20 755 517. He joined this group on March 7th, 1945. He was wounded crossing the Rhine at Worms, Germany on March 26th, 1945. He was patched up at the 36th General Hospital ( That's where he was awarded his Purple Heart) He rejoined his group, was involved in the liberation of Dachau, and remained in Munich until Sept.26, 1945, at which time he came back to the USA. and was honorable discharged on October 2, 1945 from Jefferson Barracks, Missouri. My father was a wonderful man, he passed away in October 1993. The last eight weeks of his life we lived in World War II. My father never spoke much about his experiences, but he did at this time and it was horrifying for me to see my father cry and tell some of the stories he told me. I realized my father had repressed all of this for 48 years and it must have been a terrible burden for him all of those years, but you would never have known it. He was a very successful businessman, had a wonderful marriage for 48 years and raised and educated 4 children. He was civic minded, serving our small town in many ways. The most important being in the area of Civil Rights and that was not an easy job because we lived in a small town in Alabama. I've been on a journey since he died. I wish we had talked more about this while he was alive. I would encourage all Vets to tell of their experiences so we can all learn the price many of our parents' paid for us to live in this great country. If anyone knows anything about my father I would so appreciate your time to let me know. We are trying to write down as many of the stories we know and keep a record for our children and grandchildren. My father told me before he died that Freedom wasn't free and after watching his anguish in the telling of some of the situations he was in, I know the price tag is high. My husband and I made a trip to Germany several years ago so I could start my journey, on documenting my fathers' contribution to The Greatest Generation. I even visited Dachau, and could feel the evil in the ground. I'm not looking for publicity. I just want our family to know we had a Hero in our mist and didn't even know it and our younger people cannot learn unless these stories are passed on. I have several pictures, one of the 3rd Platoon CO L 180th Infantry 45th Division. The names are listed on the back, with a note taken 2 weeks after VE Day in Munich. I also have an old hard back book, News of the 45th------July 31, 1944. Please, if anyone knows anything about my father ,feel free to write, call or e-mail me. With thanks for what you have done for our country. Patricia Calabro 4389 Heathersage Circle, Tuscaloosa, Al 35405 Phone 205 462 0207.
---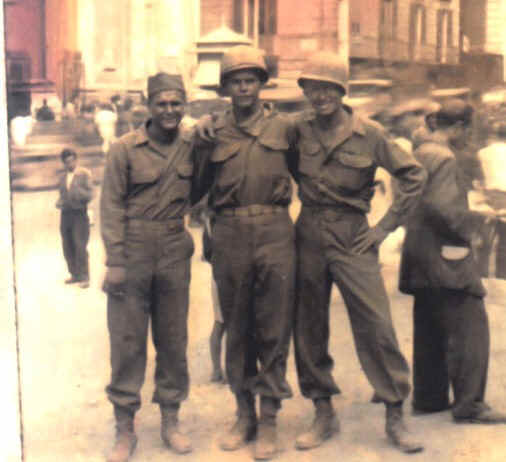 This is a photo of PFC Preston E Donovan who was in Co B, 157th Infantry Regiment, 45th Division, Service Number 33 502 404. He was born in 1923 in a tiny town called Pinetown south of Harrisburg, Pennsylvania. He was drafted on February 26, 1943 and reported to New Cumberland, Pennsylvania for induction. He left for Italy on March 23, 1944, and arrived on April 18, 1944.
His MOS was Automatic Rifleman (746), and he carried a BAR. He participated in the GO 33 and 40 WD 45 campaigns (I don't honestly know what they are), as well as Rome-Arno, Southern France, Rhineland, and Central Europe. He was awarded the Bronze Star, Good Conduct Medal, the American Campaign Medal, the European, African, Middle Eastern Campaign Medal with 4 Bronze Stars, World War II Victory Medal, and a Bronze Arrowhead.
He left Europe on December 14, 1945 and arrived home January 14, 1946, at which time he demobilized and left the service.
I would appreciate hearing from anyone who knew or served with my Dad.
Matt Donovan
mdonovan@psu.edu
---
Mr. Panebianco,

My name is Clay Palmer. And for the past few months I've been looking to find information about what my Grandfather, Staff Sergeant Howard D. Palmer of the 180th reg. went through during W.W.II. For some reason it has become a passion of mine to learn as much about the war as I can. I find it amazing the obstacles your generation had to endure. Even though most of what I find is disturbing, to think that mankind could survive such horrors, it has helped me to become a better person knowing exactly what my "Daddo" went through.

Your website is about the best I have found on information about the 45th. I'm writing this letter in hopes of learning more about my Grandfather and his experiences back then. He doesn't talk much about the war, and I can't blame him, but it's something I need to know. So if any of your readers have information or stories they could share with me they are free to email them to me.

Thanks for your time in reading this email and Thank You for fighting for this country.

Sincerely,
Clay Palmer

n2bassfishn@aol.com
---
My uncle was with the 157th Reg. of the 45th and in July of 1943 was lost in the invasion of Sicily. Unfortunately our family didn't keep good records so now I'm trying to put something together to remember him properly. At this point, I have what I gave you above, his dog tag, Purple Heart, and Flag, and some pictures.

I read with great interest the letters you posted in your web site but none were close to his dates. I remember your using some age ranges of the members and he would have been even older. Born in 1911, he would have been one of the "old men" in the outfit I think. I've scanned a photo and included if it's any help.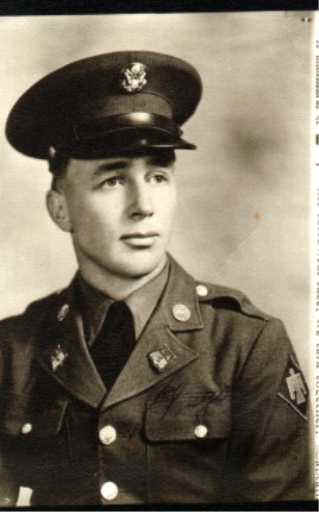 Hugo Jackson
Thanks for your help.
Norm Jackson
NCJack2050@aol.com
---
I have attached Ralph's photo and info if you would consider it for your website. It is absolutely great and I hope to find some info on the folks that are on this site. Thanks so much to you and your grandson for doing this.

Linda LeBlanc (nee Mary Helen Miller)
Dixiecuzn@hotmail.com

---
08-22-02
I will be attending the 45'TH Division reunion this month (08-29 to 09-10-02). I just wanted to thank you for pointing me in the right direction on finding out more about my late father who passed away while I was in the service. I found a few people who knew him, and heard a few stories about him, and others who served with him. I became a life member in the 45'Th division association. These are a few of the things I found out: He was in "L" company, 180'Th 45'Th division that he joined in the 1940 mobilization. He served with that unit until he was transfer to sometime in (late 1944?) to the 179'Th infantry, 45'Th division. When I go to the reunion I will look into the records.
I found men who served with my dad like Don Potter, "Cub" Smith, Trujillo, and Martinez. The passage of time will not allow for many detailed stories, but I did learn that my dad was a standing member of the poker, with dues paid in full. My late mother related the story about how he was wounded in a truck heading for town for leave, when the truck hit a mine, and perhaps it was then that he went to the 179'th as a replacement, I don't know. In Sicily he grew a goatee, and smoked a pipe in an attempt to look older. In Casino he and another friend had a poker and craps game going when they were not fighting. Most of the fighting, and patrols occurred during the night, as the Germans had the high ground, and could see everything below them and blast it.

Enclosed is a postwar photo of my father. Feel free to use this if you think it will be of any use to your fine site. To anyone considering looking up your father, do it now. This will be the 57'Th reunion of the 45'Th division. Time marches on, and memories fade. You may get lucky as I did, or you may not, but you will have no luck at all if you don't try. Keep up the good work, and vio con dios. Ray Leach

Ray leach
1811 Brookhaven drive
Austin, Texas 78704
512-447-2412
rleach@austin.rr.com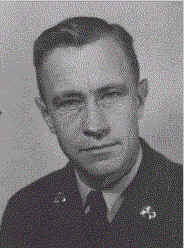 ---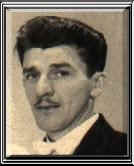 Dear Mr. Panebianco,

First I would like to say that not only does your website offer the endearing service of rememberance but also offers Hope, upon which I am immediately writing. I desire greatly someone knowing my Grandfather. His name was Stanley J. Borawski and he was in Company "I", 157th INV, 45th Div. He was only 5'2" and about 115lbs. Pictures attached. You can't image how much it would me to hear from someone that knew him during his time in the war. Perhaps someone can tell me whether or not he was at Dachau during the Liberation, for my Grandfather passed away when I was little and he didn't talk about his time in service to his young grandchildren. I don't know where else to turn.

Our family has a website on which my Grandpa has his own page at http://www.theborawskifamily.com/Stanley.html which contains the only military info that I have on him. Please Please post this on your website. I also would like to ask if I may include a link on our my grandfather page back to your website.


Thank You Most sincerely,
Gisela Borawski
gisela@theborawskifamily.com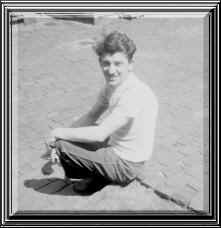 ---
Hi Mr. Panebianco. My name is John Huggins. I saw your website on the 45th Infantry Division tonight and thought I would write to you. I had two uncles who served in the 157th Infantry Regiment: Henry James Huggins and William Keith Edmondson. My uncle Jim Huggins was killed in action in France in September, 1944. My uncle Keith survived the war but passed away in 1975. Both were from Colorado. I would love to hear from anyone who knew either of my uncles, if you would be so kind as to post this email on your website.

Sincerely Yours,

John J. Huggins
1900 East Seventh Avenue
Denver, Colorado 80206

(303) 321-7277
JJHuggins@AOL.com